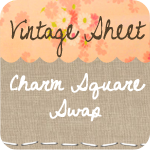 Vintage Sheet Charm Square Swap

Sign-up date: May 1, 2010 or when 50-participant limit is reached
Swap date: May 8, 2010

You will send in bundles of 20 charm squares of the same print. You can send anywhere from 3 bundles to 25 bundles. You will get an assortment of squares, the same number as you sent in.